Presented by: Avi Nahmias, Yoav Shulman, Elisheva Shamash.
Israel is located in the east corner of the Mediterranean. The geographic coordinates are: 31 30 N, 34 45 E. The population of Israel is approximately seven million.

The potato is considered one of the major vegetables for consumption. However, the consumption per capita is relatively low:


The Consumption of Potatoes in Israel: (Kg per Capita per Annum )

1990 : 37
1995 : 41
2000 : 42
2004 : 45
Nevertheless, the consumption of potatoes in Israel, has been increasing steadily. Along with the consumption, the production of potatoes has also been increasing.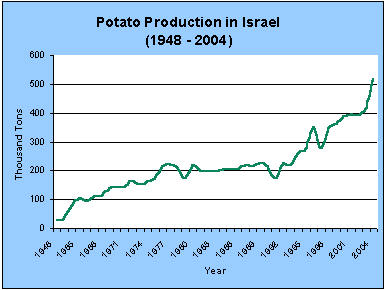 Potato Production in Israel by Seasons
Growing Areas
The main areas for growing potatoes in Israel are
1. Ha Chula valley - peat soil

2. Ha Sharon - sandy red soil

3. Sha'ar Ha Negev - medium soil

4. Bney Shim'on - medium heavy soil

5. Eshkol - sandy soil (export)

6. Arava desert - medium heavy soil with saline water (winter crop only)


The Potato as Raw Material for Industry
About 10% of the Israeli potato production is processed.
The major processed products are:
I. Frozen French Fries
II. Potato Crisps
III. Potato Snacks

The Export of Potatoes
Israel is a major exporter of winter potatoes to Europe.
The most exported potatoes are:
I. Baby Potatoes
II. New Potatoes
III. Bakers
IV. Main crop large and medium size - potatoes